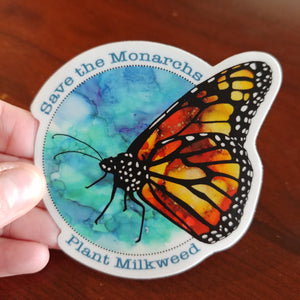 Monarch Butterfly Coffee/ Save the Monarchs Plant Milkweed / Hand Drawn Color Illustration / Nature Art Vinyl Sticker
Monarch butterflies are in decline worldwide and we can contribute to their survival. Plant millkweed, end the use of pesticides and neonictinoids, take part in your local monarch conservation chapter.
Size: 3" x 3"
Weatherproof and durable soft matte vinyl sticker
Clean surface thoroughly before placing sticker
Save the Monarchs!